RAF Leuchars Airshow, Saturday 15th September 2012:
This year's airshow featured an unusual item: the stand-up ceremony for No. 1 Fighter Squadron. The purpose of the ceremony was to mark the official re-forming of 1 Squadron at RAF Leuchars.
The squadron is now equipped with the Typhoon FGR4. It is the fourth RAF Typhoon squadron, and the second to be stationed in Scotland at RAF Leuchars. No. 1 Squadron' s role at Leuchars will be Quick Reaction Alert (QRA), along with No. 6 Squadron.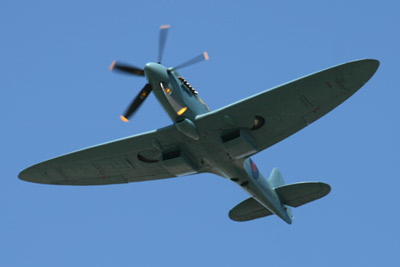 The stand-up ceremony took place in the arena at the west end of the crowd line. It included a military band, a parade, a religious service, and the presentation of the squadron's colours.
The ceremony also included various flypasts: the Red Arrows, Supermarine Spitfire PR Mk.XIX (s/n PM631) of the Battle of Britain Memorial Flight, and a 4-ship Typhoon FGR4 formation.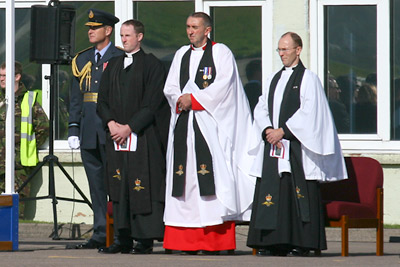 RAF Leuchars personnel have certainly had plenty of practice in ceremonial duties in 2012. On May 11th, 58 Squadron RAF Regiment was presented with its new standard by the Duke of Kent. The ceremony at RAF Leuchars included a parade, a four-ship Typhoon flypast, and presentation of honours to two of the regiment's personnel.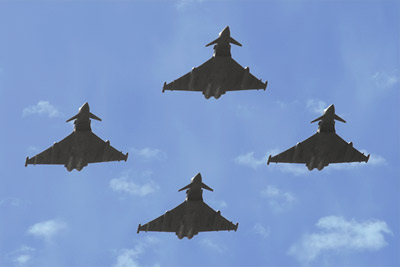 On May 19th, RAF Leuchars personnel took part in the Diamond Jubilee Parade and Muster, a spectacular tri-service event. This included a 78-aircraft flypast over Windsor Castle, and a parade through the town.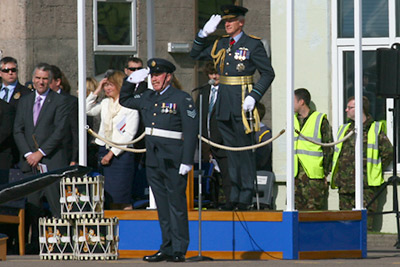 The verdict? An interesting experiment, but not something I'd like to see repeated at future Leuchars Airshows. Only a very small part of the 50000-strong crowd was able to see what was going on in the arena. If you were more than three or four rows from the front, the view was very limited.
The lack of announcements during the ceremony was also a problem. I completely missed the Red Arrows formation- one of the best photo opportunities of the whole day, and managed only a couple of rather shaky shots of the  Typhoon formation and the Spitfire.

24 September 2012
RAF Leuchars Airshow Departures Day, Sunday 16th September 2012: The weather for the weekend of…