RAF Leuchars Airshow Departures Day, Sunday 16th September 2012:
The weather for the weekend of the 2012 Leuchars Airshow had been very good up until this point. However, this being Scotland, rain is never far away, and when the weather did finally break, it did so in spectacular fashion.
At around 13:00 the heavens opened, accompanied by very strong gusty winds. The visibility became so poor that I could barely see the opposite end of the main runway.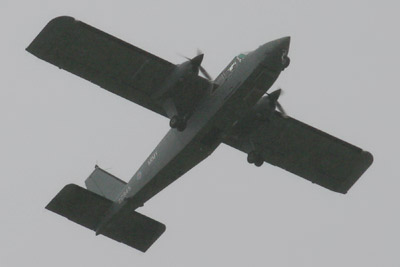 Despite the appalling weather, aircraft movements continued. At 13:00 Britten-Norman BN-2T Islander AL1 (s/n ZG845) of 651 Squadron, 5 Regiment, Army Air Corps took off for RAF Aldergrove in Northern Ireland.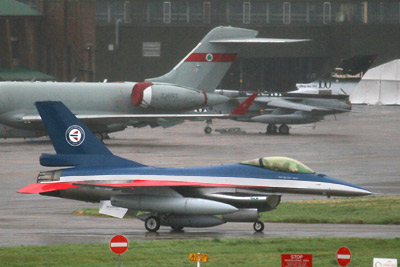 At 13:08 Fokker F-16AM Fighting Falcon (s/n 686), the colourful display aircraft of the Royal Norwegian Air Force, departed. It was accompanied by its two-seater companion, F-16BM (s/n 305).

It was very kind of 305 to waggle his wings as he flew over the few remaining drenched enthusiasts on Spotter Hill.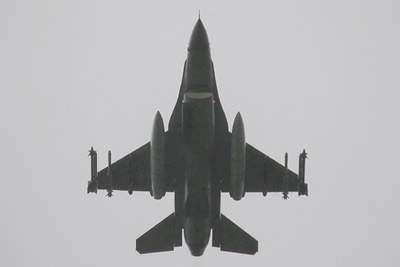 The biggest surprise of the weekend was saved for the very end: the departure of the Norwegian Air Force Historic Flight in quite appalling weather conditions.
It isn't surprising to see modern military aircraft operating in bad weather. However, I was astonished to see these vintage aircraft taking off for their flight home over the North Sea in such terrible weather.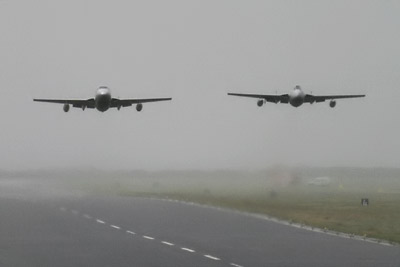 In perfect formation as always, DH100 Vampire FB.6 (s/n SE-DXS) and Federal Aircraft Factory DH115 Vampire T.55 (s/nLN-DHZ) took off into the gloom, bringing Leuchars 2012 to a close for me.
I've included a list of aircraft movements on the main Airshow 2012 page.
Also on Aviation Photo Gallery…

Other related photos:

24 September 2012
RAF Leuchars Airshow Departures Day, Sunday 16th September 2012: The weather for the weekend of…