RAF Leuchars Airshow, Saturday 15th September 2012:
The Norwegian Air Force Historic Flight, or Flyvåpenets Historiske Skvadron, appeared at Leuchars 2012 as a 3-ship display. Recent appearances at Leuchars include a solo display by Vampire T.55 LN-DHZ in 2010, and a 2-ship display by LN-DHZ and Vampire FB.6 SE-DXS in 2011.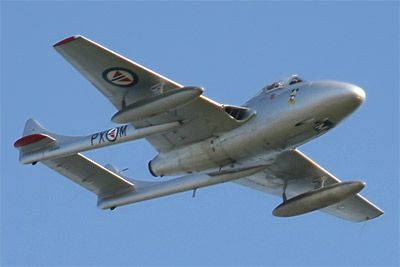 The Flight's two-seat Vampire T.55 was originally licence-built in Switzerland by the Federal Aircraft Factory, from the original British design by de Havilland.
The Royal Norwegian Air Force used the de Havilland-built Vampires between 1948 and 1957. In total 62 Vampires served as fighters and fighter-bombers (336 and 337 Squadrons), and as trainers (718 Squadron).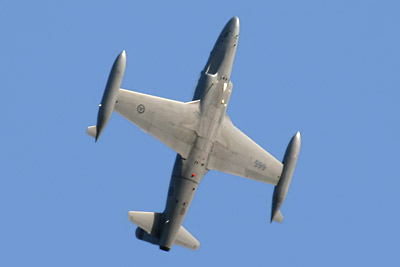 The Flight has recently acquired a Canadair CT-133 Silver Star 3 (s/n 133599), which joined the two Vampires at this year's airshow. The Silver Star is a Canadian licence-built version of the American Lockheed T-33 Shooting Star.
The Royal Norwegian Air Force used the Lockheed-built T-33s as trainers between 1953 and 1968. They served with 718 Squadron at Sola Air Station.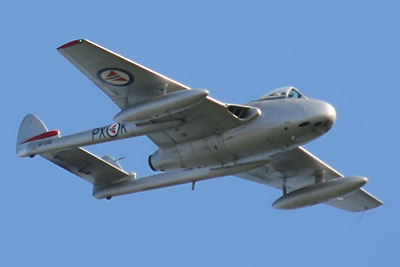 The Flight's single-seat Vampire FB.6 was licence-built in Switzerland by Flug und Fahrzeugwerke Altenrhein AG, or FFA for short.
The striking feature of the Flight's display is just how small first-generation jets are. The Silver Star isn't exactly a large aircraft, but the two Vampires look positively tiny beside it.
Also on Aviation Photo Gallery…

Other related photos:

24 September 2012
RAF Leuchars Airshow Departures Day, Sunday 16th September 2012: The weather for the weekend of…