To celebrate the tenth anniversary of the introduction of their regular service between Glasgow and Dubai, Emirates landed the world's largest passenger aircraft in Glasgow. The Airbus A380-861 (s/n A6-EET) flew the EK27 route for a special visit, landing at 12.41pm.
The pilot on this flight was Iain Weir, a local man from Clydebank. Iain was the co-pilot on the first Emirates flight from Glasgow ten years ago, and when he heard of the tenth anniversary event, he asked to be considered as the pilot. His boss liked the idea, and today Iain flew the world's largest passenger aircraft over his home town of Clydebank, which lies on the northern approach to Glasgow Airport.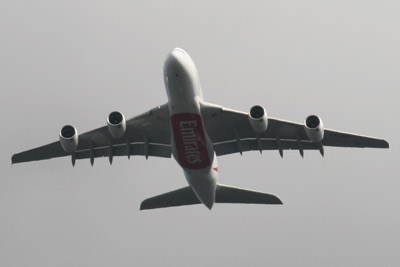 Iain obviously enjoyed the experience so much that he aborted his final approach, and flew another circuit of the city before landing. The real reason was actually a minor technical problem. However, the large crowd gathered to watch the giant airliner landing didn't know this, and looked on in amazement as the A380 climbed away at the last minute and disappeared into the clouds.
All was well though, and by the time the A380 had circled the city again, the sun had come out nicely to greet its arrival.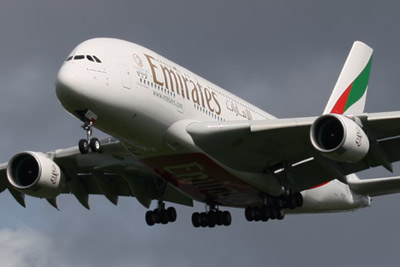 The only previous visit of an Airbus A380 to Glasgow was in September 2009. This was a publicity flight by the manufacturer, and the giant airliner made a low pass over Glasgow Airport without actually landing. So today's visit was the first ever landing on Scottish soil by an A380.