RAF Leuchars Airshow, Saturday 15th September 2012:
The aircraft taking part in the flying display at Leuchars are usually parked at the west side of the airfield, well away from the main static aircraft display area. This allows them easy access to the runway for their displays. However, this arrangement makes it difficult to get photos of them on the ground.
This year I was able to get a few shots of the flying display aircraft "on static", with the help of a zoom lens. This included the four Extra 300LPs of The Blades aerobatic team (serial nos. G-ZXLL, G-ZXEL, G-ZEXL and G-OFFO).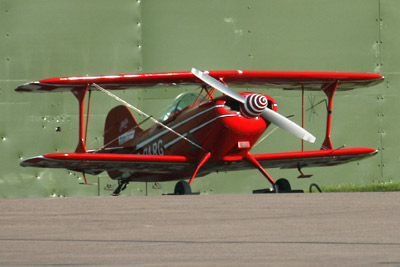 Also on static/flying display was Richard Pargeter's Pitts Special S-1S (s/n G-PARG). Richard used to fly Tornado F3s at RAF Leuchars, so he knows the area very well. His aerobatic display in his bright red Pitts Special was an unannounced but very welcome addition to the 2012 flying display.
There were two other Pitts Specials on static/flying display, belonging to Wildcat Aerobatics. Pitts S-2B (s/n G-ZIII) is flown by William Cruickshank, and Pitts S-2A (s/n G-PITZ) is flown by Alan Coutts. The Wildcats are based at Buckenham airfield in Norfolk, and this is their second season on the airshow display circuit. This is their first visit to the Leuchars Airshow.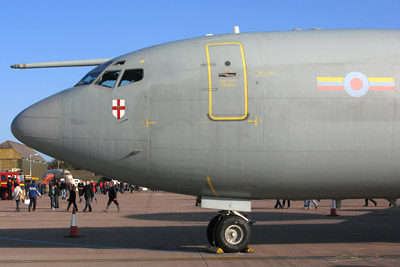 When an aircraft appears at the Leuchars Airshow, it is usually either on static display, or part of the flying display. So it was unusual to see the RAF's Boeing E-3D Sentry AEW1 (s/n ZH102) in both displays at Leuchars 2012. The Sentry was initially parked in the static aircraft area, allowing spectators a close-up view. Midway through the flying display, the large aircraft was towed away to begin its routine in the flying display.
The Norwegian Air Force Historic Flight (aka Flyvåpenets Historiske Skvadron), appeared at Leuchars this year as a 3-ship display. The Flight consists of FFA DH100 Vampire FB.6 (s/n SE-DXS), Federal Aircraft Factory DH115 Vampire T.55 (s/n LN-DHZ) "Spirit Of The Norwegians", and their newly acquired Canadair CT-133 Silver Star 3 (s/n133599).
Also on Aviation Photo Gallery…

Other related photos:

24 September 2012
RAF Leuchars Airshow Departures Day, Sunday 16th September 2012: The weather for the weekend of…